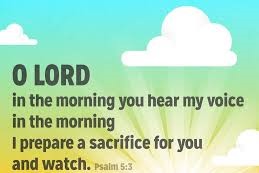 Verse 1: The Lord considers not only the words, but also the inner motives of the heart. Meditation, is to reflect on, to study. Christian meditation is the process of deliberately focusing on specific bible passages and reflecting on their meaning in the context of the love of God. It's a form of prayer. Christian meditation, should never incorporate the things of mystic meditation.
Verse 2: David even though he was king of Israel, David fully understood that the ultimate king of ALL Israel and the world was God. God hears the cries of His people.
Verse 3: "Look Up" refers to David waiting for the answer to his prayers.
Verse 4: God takes no pleasure in wickedness. Wickedness is sin and ungodliness. Evil means something bad, trouble, wickedness, something of poor quality, morally rotten, etc...
Verse 5: "Workers of iniquity" are those who make a practice of sinning.
Verse 6: "Falsehood" means lies. "Blood thirsty and deceitful man" means foolish wicked, proud and haughty, workers of iniquity(sin), liars, and follow not God's word. "Bloody man" is someone who sheds another's blood without just cause. They are murderers.
Verse 7: "Fear" here is a reverence of God.
Verse 8: "Lead me, Make they way straight", means We are to walk in God's ways being obedient to His directions.
Verse 9: "An open tomb" indicates the spiritual death that is within their being, made evident by their words. The sinful speak death b their mouths.
Verse 10: "Guilty", they may either be given up to bad and foolish counsels, or fail in the carrying out of their wise or crafty counsels. "Against Thee" means against thy authority. To rebel against God's authority, brings terrible punishment.
Verse11: Those that trust in God, rejoice because God defends them and they are joyful.
Verse 12: "Bless the righteous", means God shows them favor. "As with a shield", means God will surround the faithful with His protection. This shield that surrounds the christian, is the blood of Jesus Christ. God has provided for the righteous and that the wicked(those who do not follow God) will be punished.