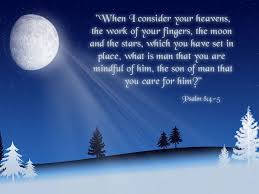 Glory of the Lord in Creation
Verse 1: "Lord our Lord", is the personal name of God, and means "Master, Sovereign". "Your name", the name of God refers to the revealed person of God, encompassing all of His attributes. God's name is above ALL names. Daily study and think deeply about the Bible. It will teach you who God is. Godly living is birthed out of know.ing who God is.
V
erse 2:
This justifies young people serving God in a Holy way. "You(God) silence the enemy and the avenger". It is by Jesus living in us that the enemy is silenced/defeated (Zechariah 4:6).
Verse 3:
"God" is the creator.
Verse 4:
"Man" refers to us. "Son of man" refers to Jesus.
Verse 5:
"Humankind" is made a little lower than the angels. We are lower than the angels, while "housed" in our fleshly bodies.
Verse 6:
"God's children(those who have a personal relationship with God) was given dominion over the things is this world.
Verse 9:

Is a repeat of the first part of verse 1.