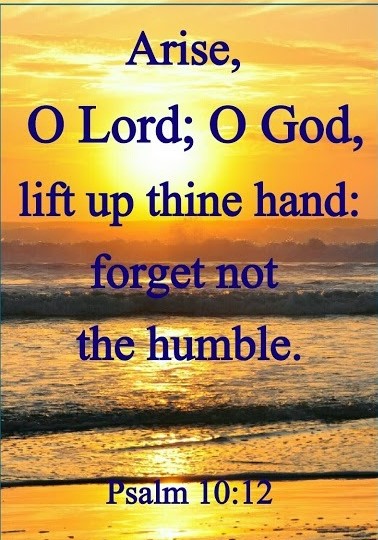 A Song Of Confidence in God's Triumph Over Evil
Verse 1:

"Stand afar" means David like others in distress, at first speaks from his own pain. Because He hurts, David feels like God is distant.
David shows his own impatience and
despair.
Verses 1-11:

David points to the condition in the world.
Verses 12-18:
David appeals to the Lord to act, to set the matter right. David is confident that God will do it.
Verse 2:
Begins the description of the despicable conduct of the wicked, in this heartless, morally bankrupt society. The pride of the wicked is what makes the wicked do what they do. "Let them be caught in the plots which they devise means let whatever the wicked have planned backfire on them.
Verse 3:
The wicked do opposite of what God does. "Renounces" means to scorn or detest.
Verses 4-11:
David calls on God to punish the wicked. The wicked have no sense of accountability to God.
Verse 4:
"None of his thoughts" means the wicked do not seek God.
Verse 5:
Wicked are living for the here and now without no preparation for life after death.
Verse 6:
The wicked believe that they will succeed and continue.
Verses 7-11:
The wicked's walk and talk are corrupt.
Verse 11:
The wicked is wrong in assuming God ignores them. It is the wicked who ignore God.
Verses 12-18:
Psalm 10 ends with a triumphant assertion of faith, despite all seeming challenges. The Lord is King and He does hear and answer our prayers.